I'm very excited to announce that today, Rollbar is launching the first and only compliant SaaS error monitoring solution on the market. Our compliant solution meets the standards of HIPAA and ISO 27001, thanks to our team's hard work over the past 6+ months on our infrastructure, application, and policies.
From the early days of Rollbar, I've been motivated to help developers build better software, faster, because I believe that empowering software developers is one of the most impactful (if not always visible) ways to improve all of our lives. We've seen customers use Rollbar to build and maintain just about everything you can imagine, from consumer apps to enterprise, healthcare, government, scientific research, and beyond. As we've found our way into applications that power more and more critical functions of modern society (like healthcare and finance), we realized that we would need to be able to meet those organizations' security and compliance requirements--somehow.
Our first iteration was Rollbar On-Premises (which we do still offer)--passing the compliance burden off to customers--and a handful of eager customers signed on. Over time, however, we learned that not only is it difficult for us to maintain and support a self-hosted product, it's a huge pain for customers, too. Forgive me for quoting a competitor who seems to be learning the same thing: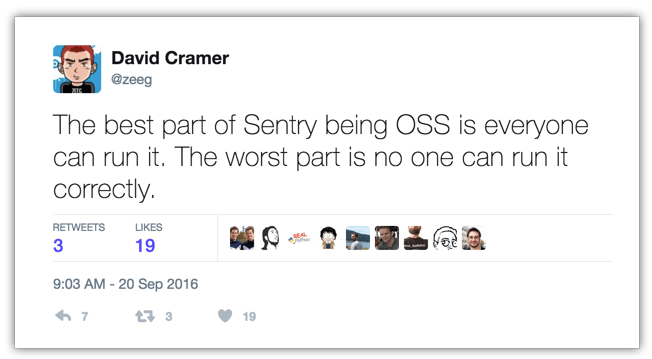 We went back to the drawing board to ask: why do customers need to self-host? And we realized that in almost all cases, they didn't. What compliance-conscious customers need is compliance, and compliant SaaS can be done.
The solution we're announcing today is for every developer who wants to build great software inside an organization that needs strong security or compliance guarantees [1]. If you're in healthcare, we can sign BAAs; if you're a large enterprise, we can go through your security review; if you have specialized needs, we're interested--and you can focus on shipping code, not worrying about how to monitor your error monitoring service.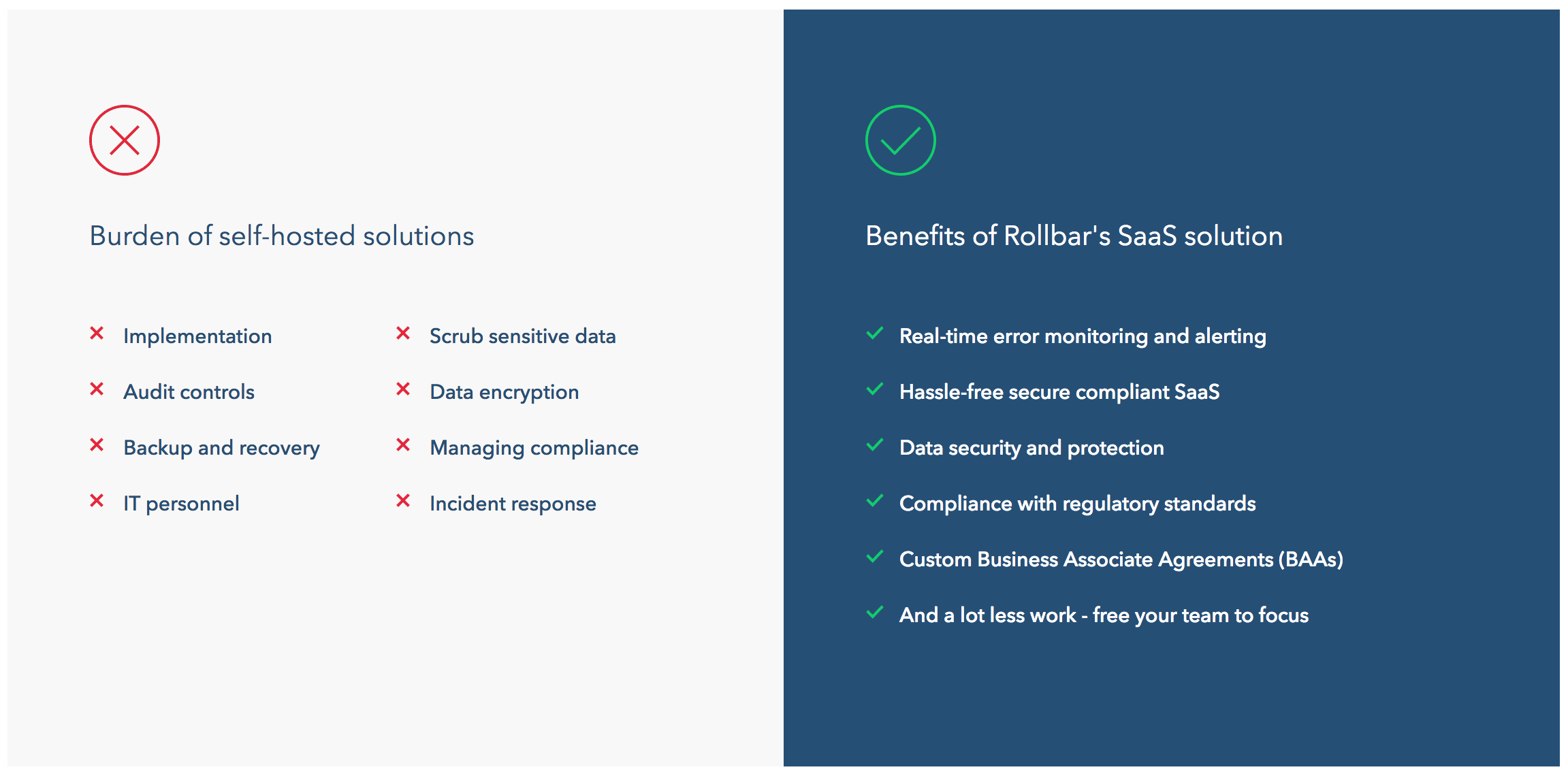 Get in touch and we'd love to help you start running Rollbar on your whole stack. You can also learn more by reading the Compliance Overview and our Security and Compliance docs.
[1] Rollbar's compliant SaaS solution meets the standards of HIPAA and ISO 27001. Our facility and operational controls have been evaluated by independent third parties and comply with [AICPA SOC 2 Type 2](), EU-US Privacy Shield and CSA STAR.
---
Security and Compliance Needs?
[Contact us](mailto:sales@rollbar.com?subject=Requesting more info) for more information regarding our secure, compliant error monitoring solutions. Also, If you haven't already, sign up for a 14-day free trial of Rollbar and let us help you take control of distracting application errors.