Introducing Analyze
Your Key to Enhanced Insights and Faster Error Resolution
We are excited to announce the rollout of our new Rollbar Improve component, Analyze. As we strive to provide you with the best possible tools to monitor, understand, and improve your code, we've combined two powerful features, RQL and Metrics API, into one comprehensive package.
Analyze is designed to deliver even more powerful insights to help your teams better understand your code and make data-driven decisions. By packaging the capabilities of RQL and Metrics API, we are equipping you with a robust solution that addresses your unique data needs.
Metrics API, which allows you to build custom insights and gain historical trends, is now part of Analyze. This enables you to understand your code better and take action to improve your practices.
RQL, the query language that lets you explore your Rollbar data, has been significantly improved within Analyze. We've increased the performance, fixed common bugs for a smoother experience, and added sample templates to make it easier for those new to RQL to learn and create their own queries, ultimately resolving errors faster.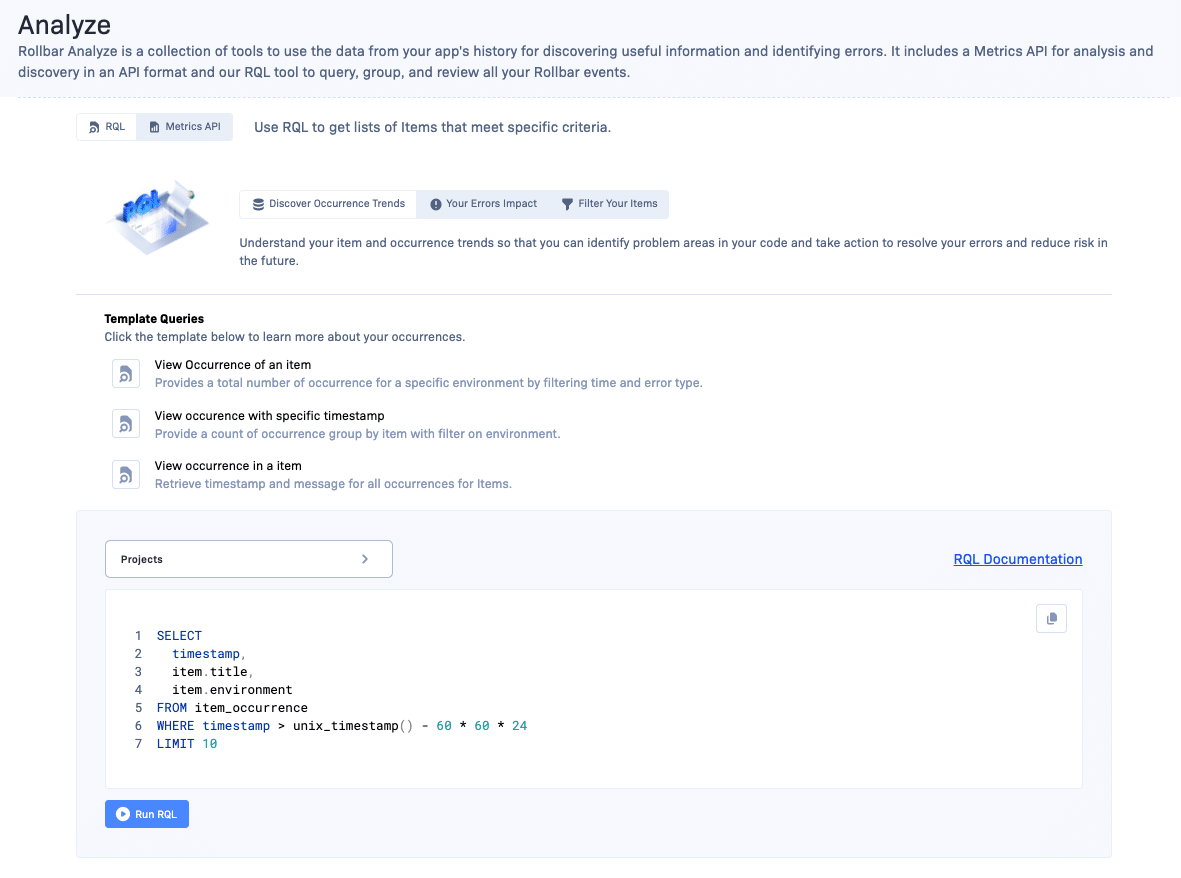 *Rollbar Analyze - Includes RQL and Metrics API
Package Changes
What to Expect
With the introduction of Analyze, we are changing our pricing packages. We understand these changes affect some of our customers and want to be transparent about the details. Moving forward, Analyze will be available as part of the Advanced package. For our other packages, we would like to outline our plan:
Free and Essential Packages
Free and Essentials package users will have limited access to RQL following a transitional grace period. Free users will continue to have access to RQL for 30 days after the launch of Analyze, while Essentials users will have access for 60 days.
To make our Advanced package more accessible, we are also introducing two new pricing tiers: Advanced 25K for $29.00 and Advanced 50K for $59.00. We encourage our Free and Essential package users to consider upgrading to one of these plans to enjoy uninterrupted access to RQL and full access to our Metrics API.
Enterprise Package
Enterprise customers will continue to have access to RQL until their contract renewal date. At that point, to continue using RQL, the Analyze feature will need to be added to their subscription. You can talk to your account manager about upgrading to Analyze.
While we understand that these changes may be disappointing for some, Analyze offers an upgraded experience with more powerful insights and improved error resolution. We're also committed to continuous improvement and have a roadmap with exciting enhancements like a natural language processor to turn your common requests into runnable queries. We encourage you to explore the new Analyze feature and discover how it can help your team improve your codebase and streamline your development process.
If you have any questions or concerns about these changes, please don't hesitate to contact our support team. We are always here to help and support you in your journey towards better code and more efficient development practices.
Thank you for being a valued Rollbar customer. We look forward to continuing to help you monitor, understand, and improve your code with Rollbar.