On the heels of Atlassian's announcement of Atlassian Connect for Bitbucket yesterday, we're excited to introduce our very own Rollbar Add-On for the Bitbucket community.
With the new Rollbar Add-On for Bitbucket and our recent Bitbucket Issue Tracker integration, you can now monitor and keep tabs on your errors and exceptions within Bitbucket. No more switching between multiple tools and services to debug and deploy code. Atlassian Connect for Bitbucket provides an integration architecture that embeds add-ons right within the their UI creating a
seamless user experience and unified workflow.
How to install the Rollbar Bitbucket add-on?
If you're currently a user of Bitbucket, click on your avatar, select "Manage Account", and simply
install the Rollbar add-on by selecting "Find new add-ons" from the left menu.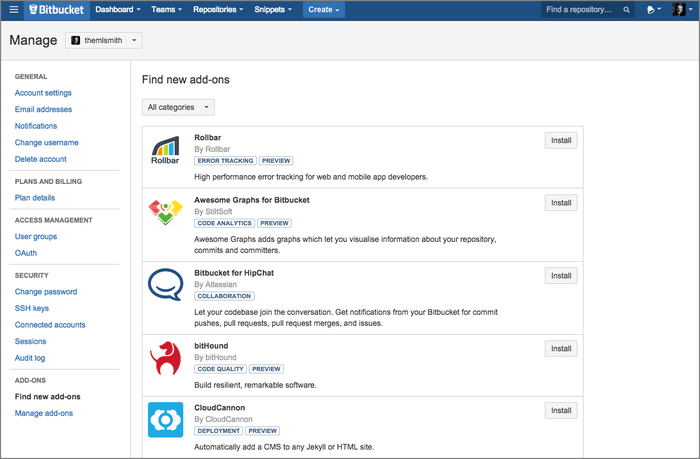 Once the add-on is installed, Rollbar data will be accessible per your Bitbucket repo dashboard(s).
Note: Atlassian Connect for Bitbucket uses fine-grained permissions to grant add-on access to
repositories, issues, accounts, teams, snippets and pull requests.
We are thrilled to be a part of Atlassian Connect for Bitbucket and for the opportunity to build and maintain a valuable add-on for the Bitbucket community and Rollbar users to find and fix errors even faster!
What's next? We're currently working toward full support for Bitbucket which includes Issues, Source Control and Authentication. Stay tuned.
Leave a comment or send a note to support@rollbar.com and let us know if you have any feedback or questions. Happy to help.