A New UI That Works as Fast as You Do
In today's fast-paced development environment, managing your project access tokens efficiently is more crucial than ever. That's why we're excited to unveil a series of upgrades to Rollbar's Project Access Token user interface to streamline your workflow and enhance your project's security.
Intuitive Status Indicators for Better Token Management
One of the key updates we're introducing is the addition of token states, specifically 'Expired' and 'Expiring Soon' states. These states are designed to offer a quick and intuitive understanding of your tokens' status. No more scouring through your list of tokens trying to figure out which ones need attention; now, a glance is all it takes.

Bulk Editing: Efficiency, Supercharged
Managing multiple tokens can be tedious, especially when each requires individual attention. That's why we've added the bulk editing feature. With just a few clicks, you can select multiple tokens and perform actions like 'Disable,' 'Expire,'' 'Regenerate,' or 'Delete.' Whether you need to make large-scale changes or quickly adapt to new requirements, this feature is designed to make your life easier.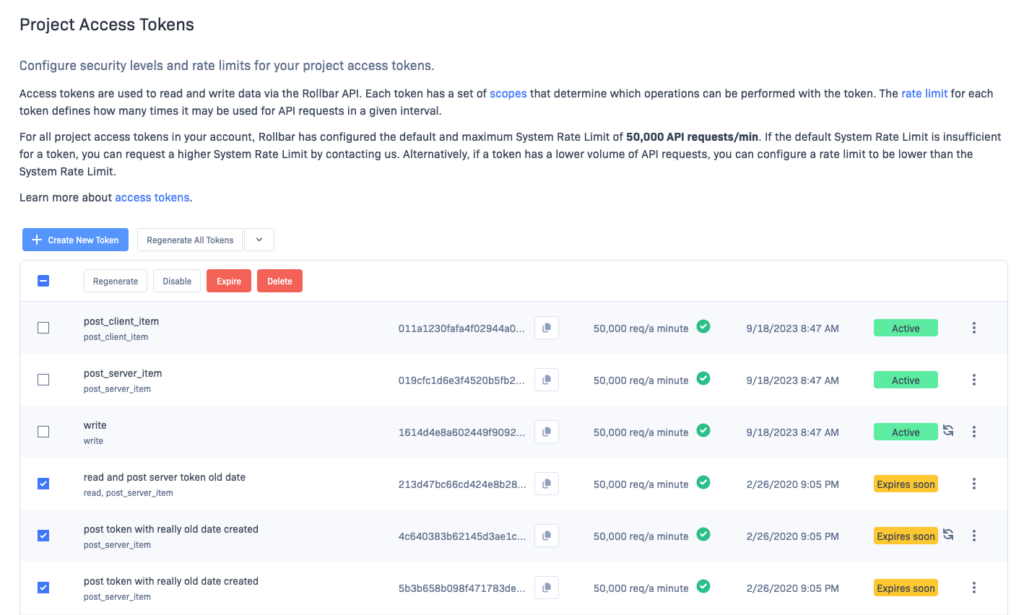 Securing Your Tokens Post-Security Incident
Our commitment to your project's security is unwavering, even more so in light of the recent data breach. The enhanced UI and new token states are our immediate response to help you manage your tokens securely and efficiently. While we're doubling down on our security measures to prevent such incidents in the future, we also want to equip you with the tools to take control of your project's security.
If you have tokens created before August 13th with a post_server_item scope, you will find them labeled 'Expiring Soon.' The new 'Expiring Soon' state was built to help you quickly identify and regenerate your tokens. Please rotate these tokens before October 10th at 12:00 am UTC, as these tokens will automatically expire to bolster security.

The Rollbar Project Access Token UI is evolving, and these new features are just the tip of the iceberg. We're continually working to offer you a seamless and secure development experience. These changes will significantly improve how you manage your project tokens, from recognizing which need attention to making bulk changes effortlessly.
Thank you for being a part of the Rollbar community. We value your feedback and encourage you to try out the new features. As always, we're just a click away if you have questions or need support.