Introducing Rollbar's Usage Notifications
Email and Slack Integration
We are pleased to announce the latest upgrade to Rollbar's usage visibility tools - a comprehensive notification system. Following our commitment to continuous improvement, this new feature will provide immediate alerts about usage milestones via email and Slack.
The newly added 'Notifications' button can be found at the top right corner of the Rollbar usage page. It is the link to a slide-out panel with two distinct tabs, 'Email' and 'Slack.' These sections enable account owners to customize and manage alerts, strengthening awareness and control over the usage status. Notably, notifications are triggered when usage hits critical milestones: 80%, 90%, 95%, and 100% of the account's occurrence allotment.

Users will find that the account owner's email is pre-set to receive notifications within the' Email' tab. However, the system is flexible to accommodate additional recipients. Up to ten more emails can be added simply by entering each address into the input field and selecting 'Add.' Importantly, these additional emails are not required to be linked with other Rollbar account users. If the need arises to remove an email from the list, the process is straightforward: identify the email and click the adjacent red 'x' button.
On the other hand, the 'Slack' tab caters to managing notifications sent via Slack. Before setting this up, ensuring that your Rollbar account is connected to your Slack workspace is crucial. After confirming that the Rollbar Slack bot is a member of the selected channel, you may choose the specific workspace and channel for receiving usage notifications.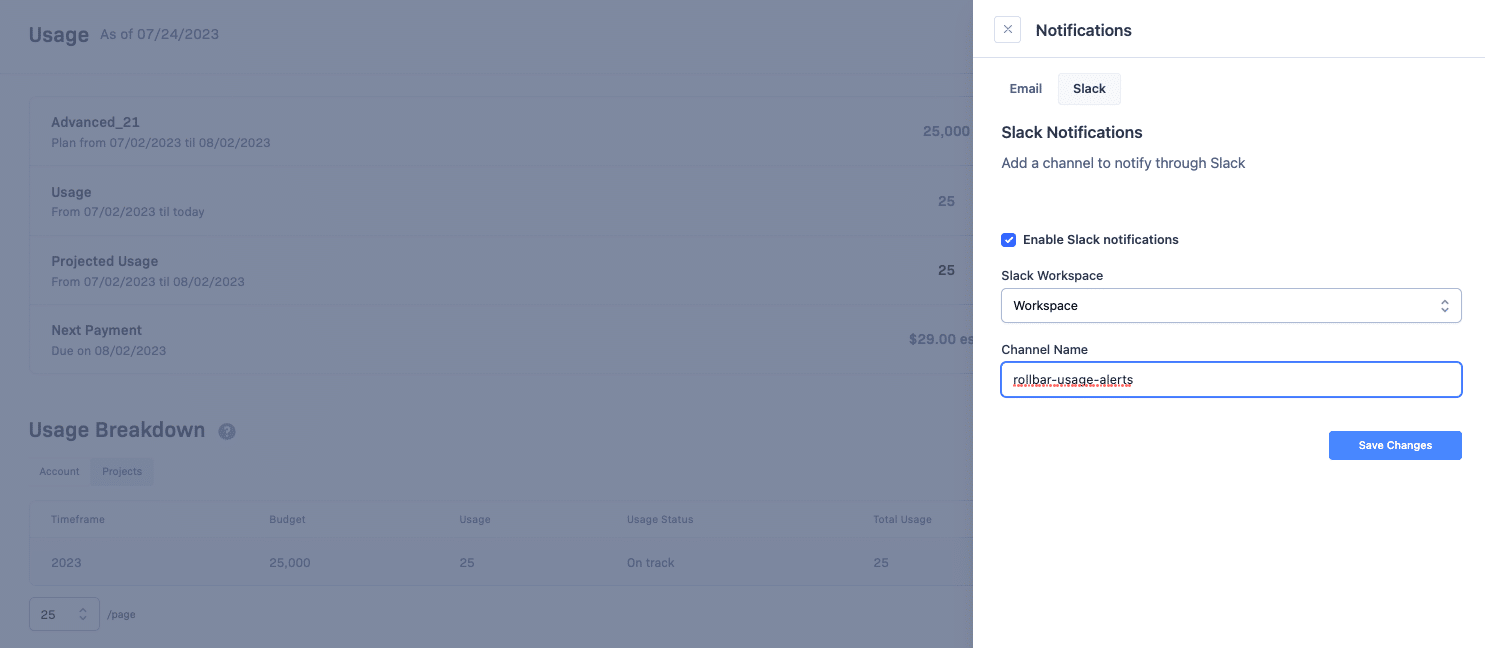 This addition to our platform represents a significant step in our ongoing efforts to enhance visibility and meet our users' needs.
We're on a constant quest to improve and evolve. That's why your feedback is invaluable to us. Please don't hesitate to share your thoughts and